An inside look into the all-new 2023 Mercedes-Benz EQE SUV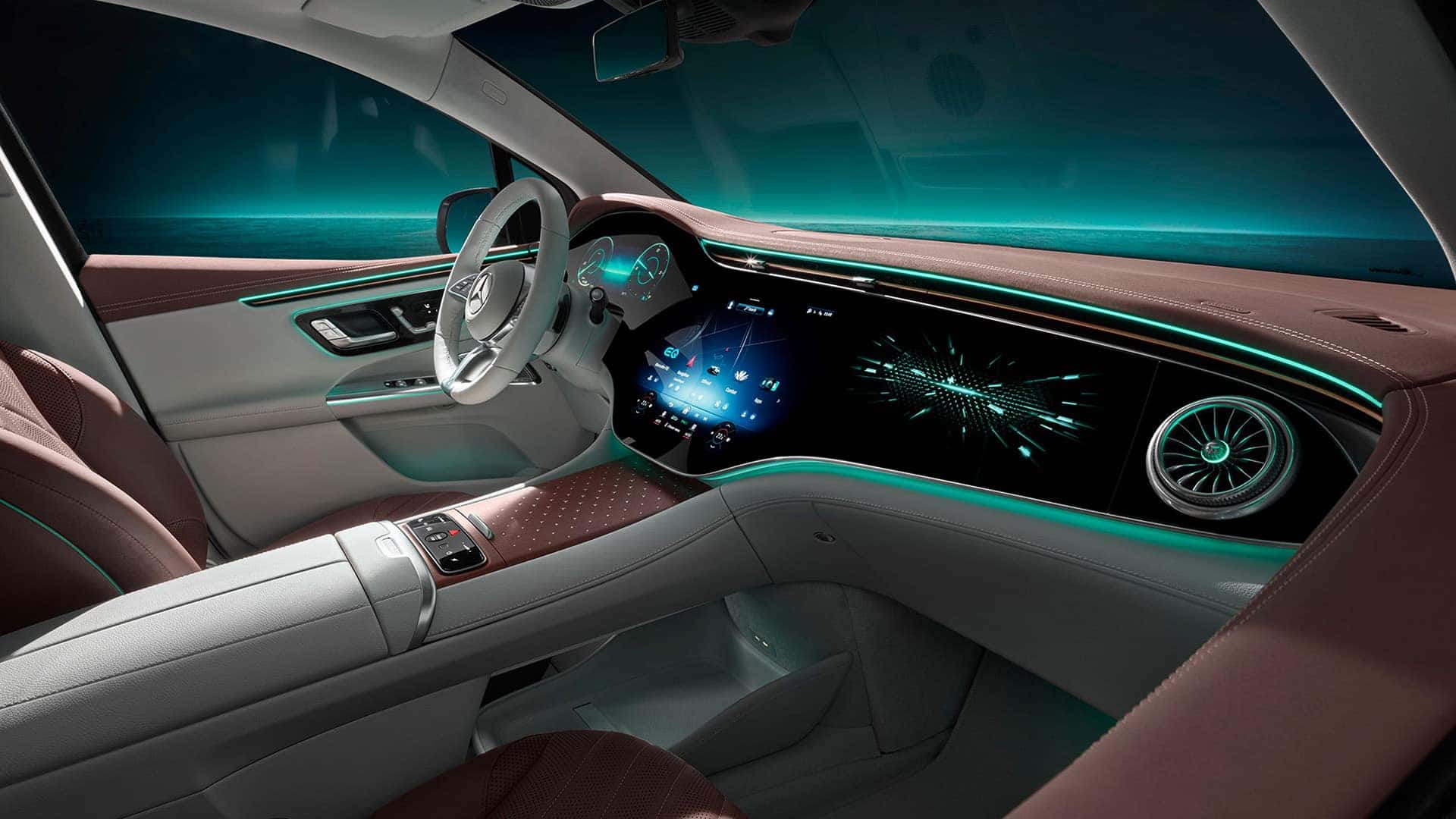 As the world patiently awaits the premiere of the all-new 2023 EQE SUV, Mercedes-Benz has treated us to an insider look into the all-electric SUV's spacious and digitalized interior.
Outfitted with the latest innovations and benchmark technology, the Mercedes-Benz all electric lineup pushes the frontiers of innovation into the electric future. The lineup's latest addition, the 2023 EQE SUV, has a meticulously crafted interior focused on comfort and adaptability. If offers one of the most spacious cabins with ample headroom, legroom, and elbow room to comfortably seat five passengers. Combined with plenty of options for personalized technology, the experience of driving an EQE never becomes routine.
Class-leading technology continues to make its way into the interior with a fully digitalized cockpit incorporating the available MBUX Hyperscreen. The entire instrument panel merges seamlessly under one glass cover spanning the dashboard, to create the ultimate widescreen experience. Over-the-air updates allow drivers to download an increasing number of programs and functions, including additional driving modes tailored toward younger drivers and valet parking, exclusive sound designs, animations and more. The front section of the centre console joins the instrument panel for a clean, free-standing space and a floating control cluster with integrated door opener and seat controls takes over for what were formerly purely decorative elements.
Innovation and tradition also come together with the EQE's unique selection of interior styling options. Owners have the opportunity to choose the ideal colour combination to suit their taste with five unique options, ranging from warm to cool tones. A hybrid trim element acts as the final touch to bring together the warmth of wood with an anthracite 3D relief-look aluminum finish.
The all-electric 2023 Mercedes-Benz EQE SUV reinvents and reimagines the traditional SUV in every way, offering an impressive range of features, innovations, and thoughtful details to make the distance of over 450 km on a single charge feel even more thrilling.
The Mercedes-Benz EQE SUV will premiere to the world digitally on October 16th 2022, streaming on the Mercedes me media online platform as well as YouTube, LinkedIn and Twitter.