The ultimate collectible: Mercedes' limited-edition series Haute Voiture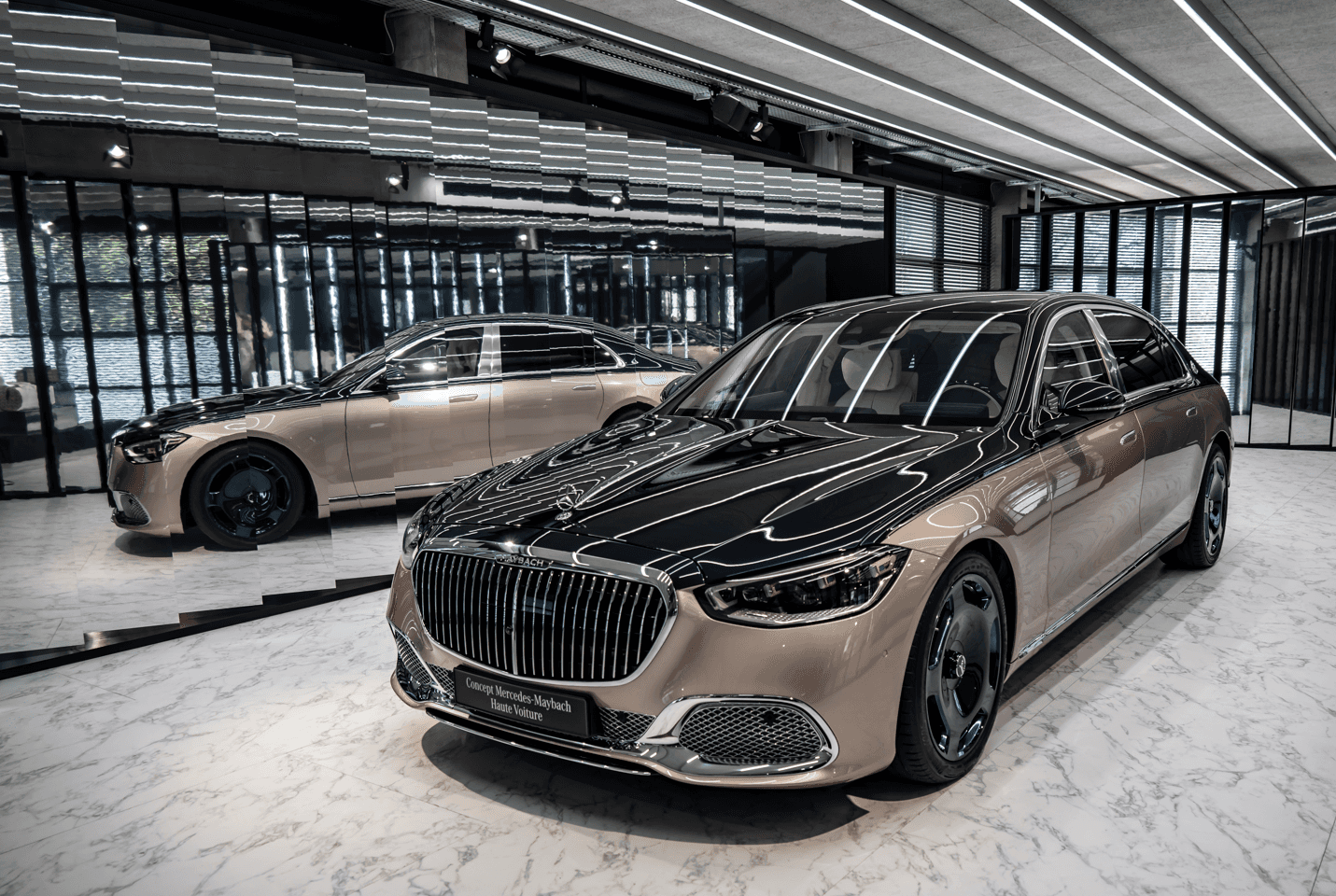 A luxurious and exclusive Mercedes-Benz concept car is being brought to life, designed and built with the finest materials to share the Maybach experience with a select few. Earlier this year, Mercedes-Benz announced a S-Class Haute Voiture concept model, designed and built with the finest materials. Now, the concept has evolutionized into a limited-edition series by the same name.
Mercedes-Benz presented the Maybach S-Class Haute Voiture for the first time at an event in Dubai this week, following a curated fashion how by local couture designer Atelier Zuhra. The vehicle was debuted to lucky VIP guests, media and influencers.
Created by Mercedes Benz' most specialized customization and craftmanship team in the Manufaktur in Sindelfingen, each vehicle will feature a badge in the centre console outlining its number within the unique run. As a collectible piece designed for select occasions, Mercedes has revealed only 150 units of the Haute Couture-inspired model will be made available for purchase.
Each S-Class Haute Voiture will be accompanied by a hand-made giftbox featuring its badge number, alongside a scaled model and key ring. A special car cover featuring the Maybach and Haute Voiture logos will also be gifted to customers, adding even more allure to the Maybach experience. The combination of utmost craftsmanship, high-quality materials and exquisite details create a new level of exclusivity that is evocative of a drivable art piece.
"The Mercedes-Maybach S-Class Haute Voiture heralds a new chapter of high exclusivity for the brand. With a restricted limited run of 150 units, the special edition reflects our brand philosophy to occasionally release aspirational collectibles," said Daniel Lescow, Head of Mercedes-Maybach at Mercedes-Benz Group AG, "Thus, we further strengthen the position of Maybach as the ultimate luxury pioneer and facilitate one-of-a-kind luxury experiences that go beyond our customers' expectations."
On the outside, the series vehicle is designed in line with the concept Haute Voiture, an exclusive two-tone paint finish. The tint is a combination of metallic nautical blue on top, with a light shimmering rose tone in the lower section and nautical blue metallic rims. When the doors open, revealing the stylish interior, animated Mercedes-Benz or Mercedes-Maybach patterns using LCD technology light up and elegantly illuminate both the front and rear entry areas.
The sophisticated exterior compliments the limited edition's interior seamlessly, through the extended use of dark nautical blue and rose gold tones, with additional crystal and glossy opal white features. Perfectly enhancing its Haute Couture inspiration, a high-quality fashion-inspired bouclé fabric remains a constant throughout the model, in blue, beige, rose gold and gold shades, with additional intricate details featured within the seat covers and cushions. It's a full sensory experience showcasing supreme elegance, sophistication and luxury.
Extravagance doesn't end there. The series car will also be accompanied by a bag collection retailing at Maybach Icons of Luxury physical and online stores early 2023. The collection will feature a variety of styles and styles, comprised of select materials featured in the vehicle interior. The bags, which will combine Haute Couture extravagance with detailed craftsmanship, will be a limited edition run.
Click here to learn more about the limited-editions series Haute Voiture.